FlexMET by SUTTON INTERNATIONAL
FLEXMET: THE METAL LEAF/GRAPHITE PAD ROTARY KILN SEAL
FLEXMET METAL LEAF ROTARY KILN AND CALCINER SEAL
UNIQUELY DESIGNED METAL LEAF/CARBON PAD KILN SEALS
FlexMETTM is an overlapping metal leaf style kiln seal that is suited for retrofitting equipment where high heat tolerance is needed.  Designed with durability in mind, this sealing arrangement is a great solution for the harshest of environments where heat, debris, and corrosive/caustic environments are major issues.  Hard compressed carbon wear pads affixed to the ends of directionally swept leaves provide a self-lubricating surface for the sealing area on the rotating shell.  This sealing surface will not score the shell, but rather will polish it over time, which further reduces wear.  For older equipment, FlexMET is a great alternative to elaborate sealing systems that require months of engineering and a large CapEx budget!
Typically having service life of up to 40% longer than competitive products, FlexMET will last through several maintenance cycles, which saves costs associated with riggers or maintenance personnel replacing seals, or worse yet, replacing shell sections due to scoring from other types of seals.  Have an application where harsh chemicals are a concern?  FlexMET can be manufactured using exotic alloys and specialty fastening hardware to withstand even the nastiest of elements!
Available as an ancillary component is a high-temperature cover that provides an additional barrier to air infiltration. BAIRICADE completely encapsulates the seal and gives an advantage to critical air applications where traditional metal leaf designs would be inadequate.  BAIRICADE simply installs over the seal and is trapped in place under the same clamping ring that holds FlexMET in place.  A spring loaded Kevlar tensioning device holds the cover in place at the sealing end.  Since the cover essentially floats over the seal, it moves freely with the seal to automatically adjust to most shell runouts.  Having the efficiency of a fabric based seal coupled with the durability of FlexMET provides a winning combination in sealing technology!
TYPICAL FLEXMET METAL LEAF KILN SEAL APPLICATION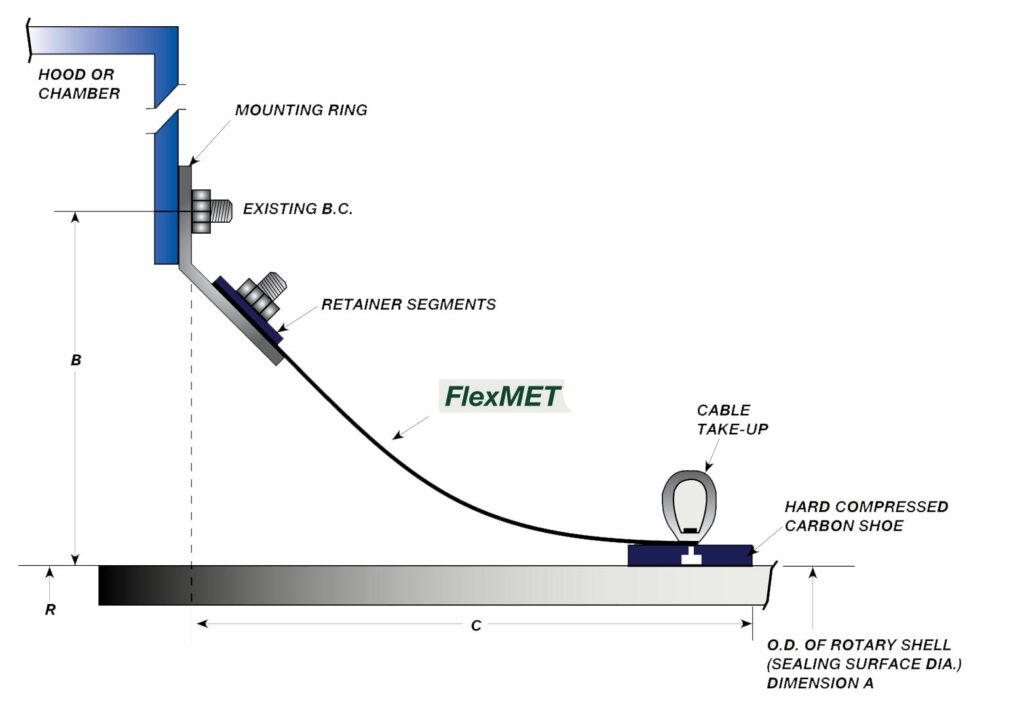 FlexMET sealing systems are more tolerant to debris build-up behind the seal than are fabric based seals.  This seal shines in applications such as cement and activated lime production, earth reclamation, sand and aggregate drying, or other specialty pyro-processing applications.  Having leaves that are swept in the direction of rotation reduces the risk of hot clinker or other debris becoming lodged between leaves which can damage or completely break off leaves that are cantilevered in the wrong direction.  Properly swept leaves allow clinker to simply roll out from within the seal.  Another feature is the use of  annealed alloys for leaf manufacture. Annealed leaves are tolerant to eccentricity as they resist fatigue associated with an oscillating motion.
Lightweight, 100% hard compressed graphite pads reduce both wear and stress on the seal.  Competitive products use a heavy sintered shoe as a wear surface for the seal.  This causes a higher level of engagement of the tension device to support the weight of the shoe at the bottom of the seal which results in a faster wear rate.  Using a light weight wear pad eases the burden on the tension device, thus reducing pressure and shear stress on the pads and seal as a whole.  Graphite wear pads also eliminate any kind of scoring or wearing of the rotating shell such that the seal can ride on the shell itself without the need of a wrapper band or false shell.
The optional cover for FlexMET provides an additional vapor barrier for the seal which further restricts airflow through the sealing area.  Since the cover rests on the outside surface of the seal, it can withstand several inches of pressure created by induced draft fans within the process.  The cover, as with FlexMET itself, is completely customizable as it can be manufactured from an assortment of materials to be compatible with any environment.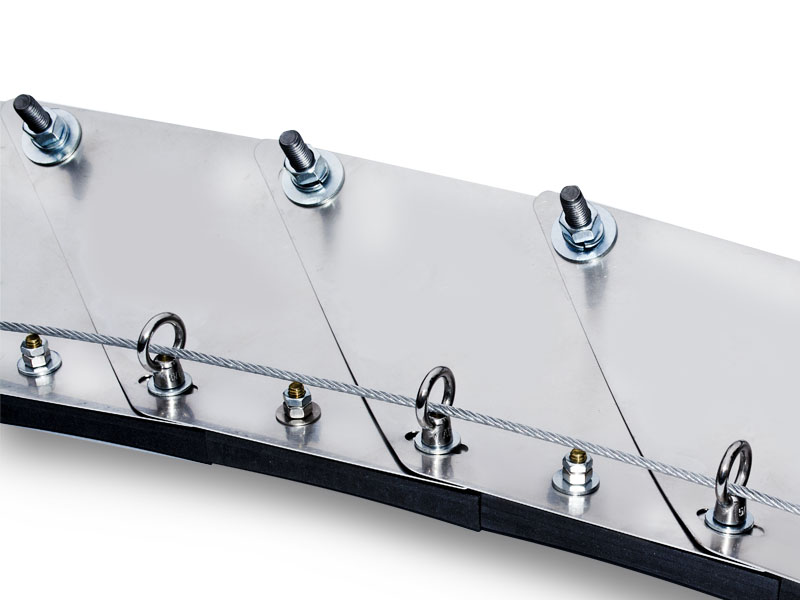 | | | | |
| --- | --- | --- | --- |
| | Flap Size | Kiln Dia. | Run Out @ 90 Degrees |
| Mini FlexMET | 4″" | 3-5 ft. | not more than 3/8″ |
| Mid FlexMET | 7″ | 9 ft. | up to 1″ |
| Standard FlexMET | 10″ | 10 ft.+ | up to 1.5″ |
| Maxi FlexMET | 12″ | 10 ft.+ | 1.5″ to 2.5″ |
Light weight 100% compressed graphite provides years of reliable service
Light weight seal components ease installation in hard to access areas of the kiln
Helps processes comply with ever more stringent EPA emission regulations
Helps process stability and increases capacity to drive profits
Made of heat-resistant 310 stainless steel or exotic alloys for specialty applications
Directionally swept leaves to reduce seal stress and risk of damage from clinker
Mounted 45 degrees to the shell axis which provides a more relaxed position to accommodate a greater amount of runout or eccentricity during operation
Runout Tolerance:  See chart.
Heat Tolerance: up to 2000 degrees F (1100 degrees C).
Service Life: Typically 2 to 5 years, up to 8 years depending on environment and equipment.
Configuration: Mounted at a 45-degree angle of attack to the sealing surface.
Options:  Various alloy combinations for components.  Also available is BAIRICADE a patented cover for further airflow restriction.
Cautions:  If runout is excessive, it is advised that a centering ring be fit to the kiln shell prior to installing any new sealing system.  Ask us how your team can economically install a centering ring that will help provide the best sealing solution possible for your equipment.
INQUIRE ABOUT A FLEXMET KILN OR CALCINER SEAL TODAY!
Send us a sketch of your current sealing arrangement with details of your process including temperature and pressure requirements, and we will send you a sketch of a proposed seal with pricing and lead time. In most cases, a new sealing system can be produced within 10 to 15 business days!